페이지 정보
Name
HANA Academy
Comment
0
Hit
559
Date

23-10-06 13:36
본문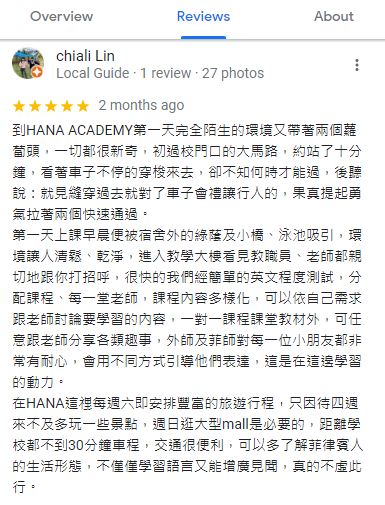 On the first day of HANA ACADEMY, I was in a completely unfamiliar environment and brought two radish heads. Everything was very novel. I just passed the main road at the school gate and stood there for about ten minutes. After passing, I heard later that the car would give way to pedestrians as soon as I saw the seam, so I really took the courage to pull the two through quickly.
On the morning of the first day of class, I was attracted by the greenery outside the dormitory, the small bridge, and the swimming pool. The environment is relaxed and clean. When I entered the teaching building, I saw the staff and teachers greet you cordially. Soon we passed a simple English proficiency test. , assigning courses, each teacher, the course content is diversified, you can discuss what you want to learn with the teacher according to your own needs, in addition to the one-to-one course classroom textbooks, you can share various interesting things with the teacher at will, foreign teachers and Filipino teachers have a good understanding of each All the children are very patient and will guide them to express in different ways. This is the motivation to study here.
In HANA, we arrange a rich travel itinerary every Saturday, just because we don't have time to visit more scenic spots after four weeks. It is necessary to go to a large mall on Sunday. It is less than 30 minutes' drive from the school. The transportation is very convenient, and we can learn more about Filipinos. The way of life, not only learning the language but also broadening the knowledge, is really worthwhile.
https://maps.app.goo.gl/yqVgezdwMsD8XS6n9
到HANA ACADEMY第一天完全陌生的環境又帶著兩個蘿蔔頭,一切都很新奇,初過校門口的大馬路,約站了十分鐘,看著車子不停的穿梭來去,卻不知何時才能過,後聽說:就見縫穿過去就對了車子會禮讓行人的,果真提起勇氣拉著兩個快速通過。
第一天上課早晨便被宿舍外的綠䕃及小橋、泳池吸引,環境讓人清鬆、乾淨,進入教學大樓看見教職員、老師都親切地跟你打招呼,很快的我們經簡單的英文程度測試,分配課程、每一堂老師,課程內容多樣化,可以依自己需求跟老師討論要學習的內容,一對一課程課堂教材外,可任意跟老師分享各類趣事,外師及菲師對每一位小朋友都非常有耐心,會用不同方式引導他們表達,這是在這邊學習的動力。
在HANA這